About Me
For as long as I can remember I have always played with cars and been a true petrolhead. From about the age of 7, when I could finally reach the pedals of my Dad's Wolseley, I had the occasional treat with a  trip to our local airfield to have a drive of his car. As soon as I started my engineering apprenticeship at the age of 16, I spent my first wages on a Vauxhall Viva HC to learn about motor vehicles and prepare it for my 17th birthday when I could be let loose on the open roads.  
Not long after passing my driving test at the age of 17 years 52 days, I started to want something more stylish than my trusty old Viva. One car that I had always desired through the 1970's was the Triumph Stag and so this was my next purchase. I bought my Stag in October of 1984 but due to insurance problems for a 17 year male, I could not get it insured until my 18th birthday. Oh what a birthday present. I felt like a dog with 2 ....... My driving world was heaven with wind through my hair and the sound of a throbbing V8.
For a few years I was very content and happy with my Stag and even though they had a very poor reputation for engine reliability, my stag ran beautifully, because it had always been maintained to a high standard, which I continued with and I used it regularly. I used to go along to a monthly meeting of the Stag owners club down in Berkshire at "The Bird in Hand" and after a few months the TVR car club started using the same venue on the same evening of the month. Now I thought Stags sounded good, but when these then new wedge shaped TVRs started rumbling into the car park, I started to think that maybe this might be the car that would replace the Stag one day.
I had always had a soft spot for the TVR marque as they first got into my blood at the age of 7 when a freind of my father took me for a ride around the Silverstone race track in his 2500 Vixen. (See below) Yes this is me, Rob Ingleby at the age of 7 with a big grin on my face. If anyone recognises this registration and knows anything about the whereabouts of this car, I would love to hear from you.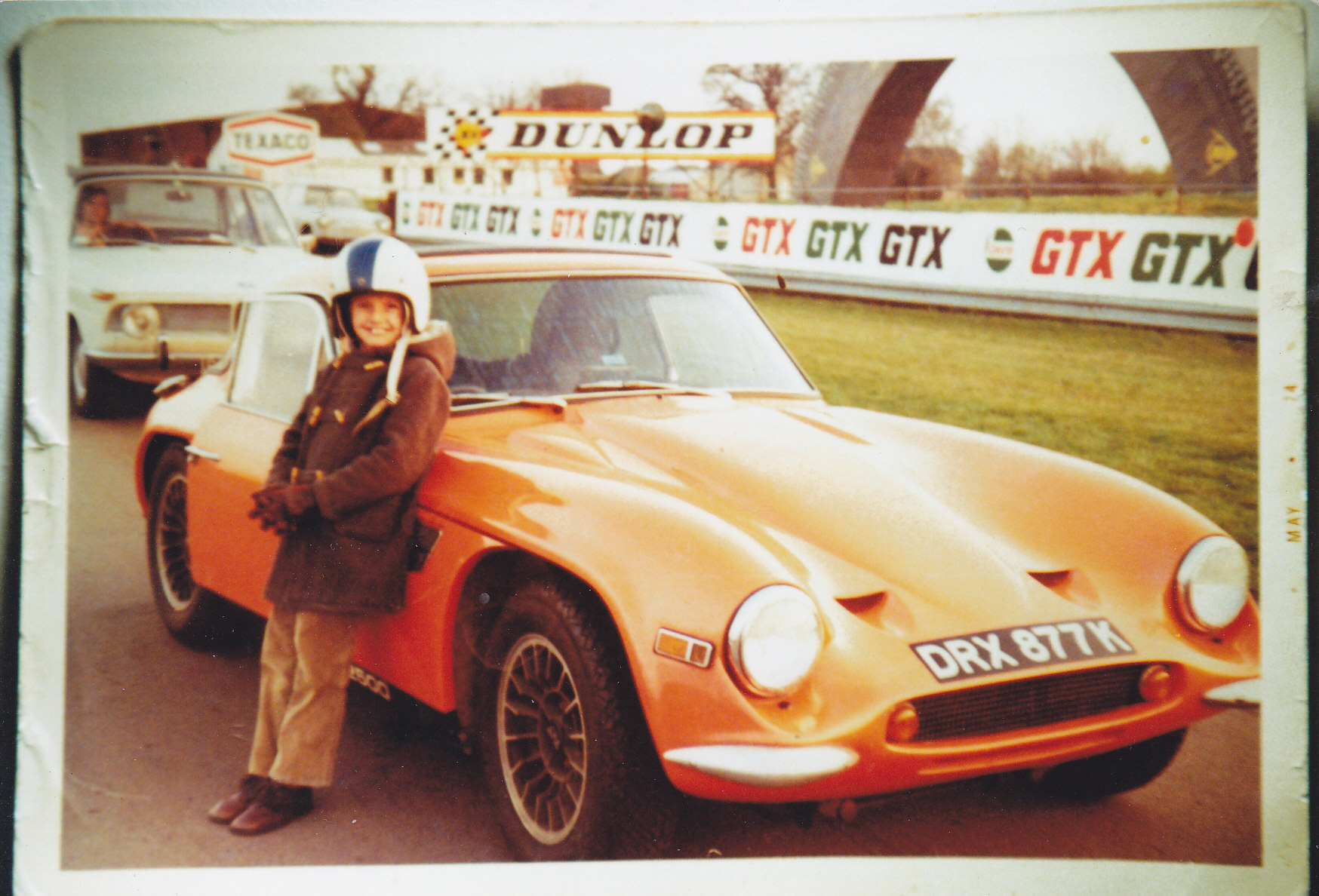 Back then I hadn't got a clue that this was a hand built sportscar from Blackpool, but I do remember how impressed I was with the way it went around corners so fast!!!
Through my teens I started to learn more about TVR and if it wasn't for the desire of a Triumph Stag, I would have probably bought an M series as my first sportscar. Seeing these new wedge shaped V8 engined TVRs in the late eighties and the desire of going faster around corners and doing track days, the time came to painfully sell the Stag and start the search for my first TVR.
I first joined the TVR car club back in Ocotober 1991, and started going to events both locally and nationally in my Stag, picking the brains of owners to gain as much knowledge of the cars as possible to help me find a good example of 350i. I set me heart on a series 2 model, mainly because of the softer body lines and improved redesigned A-frame rear suspension. Eventually in November 1994, I became the proud owner of a 1987 350i in Carabean blue.
I kept this first TVR for about 3 years and did quite a few track days in it. Once the track day buzz got under my skin, I started wanting a more suitable track car, so decided to purchase an S1 Lotus Elise.

I have now owned many TVRs, Lotus's and a few other sportscars over the past 28 years and have loved everyone of them.
If you would like to tap into some of my knowledge which will help you buy a good example, then please get in touch with me. 
Below is my current TVR that I purchased in 2007. It had only covered 19k miles in 16 years and was a bit of a garage queen. Having never been able to get the TVR wedges out of my system, I wanted to keep this model of TVR as my classic "one to keep". Even though I have owned quite a few younger models, the style and character that these 400SE's have, makes me never want to swap it for anything else. I just look forward to having another Griffith sat along side it.